A unique buggy racing adventure. Race against weird cars and buggies in an unlimited race mania where you will need to drive without a crash and collect lots of coins and gold to unlock more crazy fast cars!
Welcome to SPEED BUGGY RACING: Dirt Dragon, the race of your life!
Ever wondered how it would feel to drive like a psycho madman in a desert on a dirty road in a super powered all terrain vehicle?
You got it!!
This is your chance to get an action packed racing game for the gentleman and the ladies with a lot of dirt and no asphalt! Race against amazing characters including buggies and even a surprisingly old and odd looking vehicle!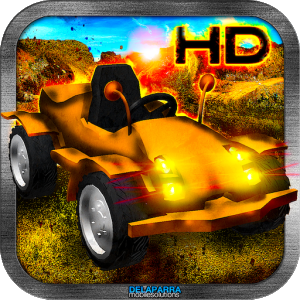 Incredibly easy to play with and an addictive gameplay, SPEED BUGGY RACING is a game that will give you infinite hours of fun!
App features:
6+ obtainable characters to fight the other buggies! (More to come in updates)
10+ different type of enemies that can destroy your buggy
Non stop action and 3 different type of coins in the game that will help you get more characters to fight evil
Killer music & sound effects to blow your mind
NEW FEATURES COMING SOON!
Only the best free and fun games with DE LA PARRA Mobile Solutions.