Control your PC or Mac securely from your Android phone or tablet with this amazing free VNC app in Spanish. The ultimate remote desktop application.
REMOTO VNC DMS: Control Total A Distancia
Dominate your computer from a distance!
Manage your computer with an easy to use VNC app and take control of presentations, manage your PC browser, use your phone or tablet as a mouse and keyboard, browse media files, and capture screen while at it. Connect securely through Wi-Fi or Bluetooth and never miss an opportunity to operate your computer even when you are not there.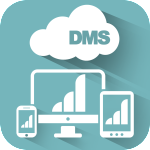 Handle your PC with Remoto VNC DMS for free and enjoy using a beautiful and intuitive interface with all your!
Extend your productivity with an app compatible with most Android devices and screen sizes!
App features:
Control your PC or Mac for free with your Android device
Manage files, media, browse and presentations from a distance
Connect securely using Bluetooth or Wi-Fi
Adjust settings for sound, vibration and even screen recording
Use your Android tablet or phone as a mouse and keyboard to control your computer
Create different connections with multiple devices with our server
Download server client by clicking on the icon below!
NEW FEATURES COMING SOON!
Extended Unix connectivity
Google Drive API
Only the best free productivity apps with DE LA PARRA Mobile Solutions.