Browse for free and mega secure with a fast, simple & super light Android browser in Spanish. Multiple tabs, bookmarks, private tabs, high speed browsing & even bridge your browsing with Orbot for TOR VPN browsing (optional for rooted devices). Enjoy searching with many search engines for enhanced privacy, customization & browse as mobile, desktop, normal or custom mode using our different agents.
MEGA NAVEGADOR DMS: Velocidad & Seguridad
Take your mobile browsing to the next level!
Manage advanced features and make Mega Navegador DMS yours with extended search engine options using Google, Duck Duck Go (Normal & Lite), Yandex, Bing, Yahoo, Android Search & Baidu. You can even use a custom URL for a personalized search! Download files with ease, play videos, adjust views and browse in full screen mode, hide task bar and many more features to completely dominate your browsing experience.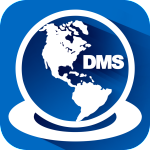 Control the way you browse with password auto save, empty cache, history & cookies. Enable / disable JavaScript, text reflex, block images, block popups, manage cookies and even sync history with Google. This is a free browser that has ads (banner) but also offers an ad blocker that blocks the display of website ads.
Extend your browsing security with our app which is compatible with most Android devices and screen sizes!
App features:
Secure browser with optional Orbot (TOR) VPN bridging for rooted devices
Different search engines integrated and ability to use custom URL
Save passwords, remember previous session, manage JavaScript, block images & ads
Manage cookies, browse in full screen, use different browsing agents
Bookmark sites, manage location, activate flash browsing (for older OS Android 3.x and below
Share URLs & download files, videos or images
NEW FEATURES COMING SOON!
Enhanced file uploading
Themes
Only the best free security & browsing apps with DE LA PARRA Mobile Solutions.