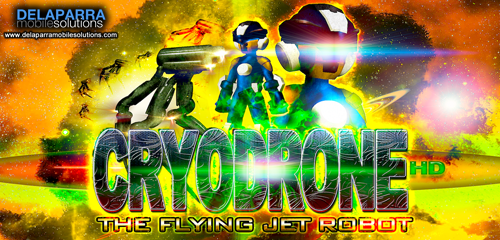 WELCOME TO THE MOST ADDICTIVE FUTURISTIC GAME. Race, shoot and collect coins in a galaxy mania!
"CRYODRONE: The Flying Jet Robot" Simple and free racing shooter game in a deep space war! Small game that will not make your Android device run empty of space in its internal memory or sd card!
In a distant future, Cryodrones have replaced human beings as a species. Using top of the line technology, humans, in their need for survival, were able to copy their minds into
modern hard drives and live forever. But now the Cryodrones face a terrible space war with other robot like, non biological star entities called the Minodrones that wish to terminate their species from this Universe.
In this modern fight you will help Cryo X1 Kokotori and his Cryodrone gentleman allies, all having special construction and modifications, in this awesome combat to gain control over the aliens in a hot pursuit race with jetpack propulsion and laser-gun ammo.
App features:
6+ obtainable characters to fight vs psycho aliens! (More to come in updates)
8+ different type of enemies that can destroy your Cryodrone
Non stop action and 3 different type of coins in the game that will help you get more characters to fight evil
Killer music & sound effects to blow your mind
NEW FEATURES COMING SOON!
Only the best free and fun games with DE LA PARRA Mobile Solutions.