Save battery power with the ultimate battery saver for Android and take full control of your device in Spanish.
BATERÍA MEGA: Asistente Ahorrador
Ladies and gentleman!
Save battery like a pro Android user with a simple yet powerful app with animated graphics and mega utility features for total battery domination. extend your battery life with precise measurements, activation or deactivation of system features and Auto Battery Saver Mode so you don't have to worry about handling your battery when it is running low. Let Batería Mega handle all the hard work for you and extend your battery life every day.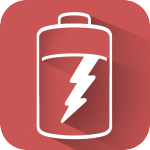 A simple interface with intuitive controls, detailed analytics and the ability to suspend unused apps to extend battery life makes Batería Mega your perfect mobile solution for energy management on both your tablet and smartphone.
Extended compatibility so almost all Android devices can benefit from this free to download battery saver and management!
App features:
Animated menu interface with spinning dial actions
Battery measurement with precision graph feature for extreme analytics
App process suspension to extend battery life
System options enable / disable, with Auto Battery Save Mode feature
Widget included with 3 battery measurements: temperature, energy remaining percentage & voltage
NEW FEATURES COMING SOON!
Individual app energy consumption rate
App uninstaller
Only the best free and productive apps with DE LA PARRA Mobile Solutions.